Mitel Phone Systems by Integrated CSNY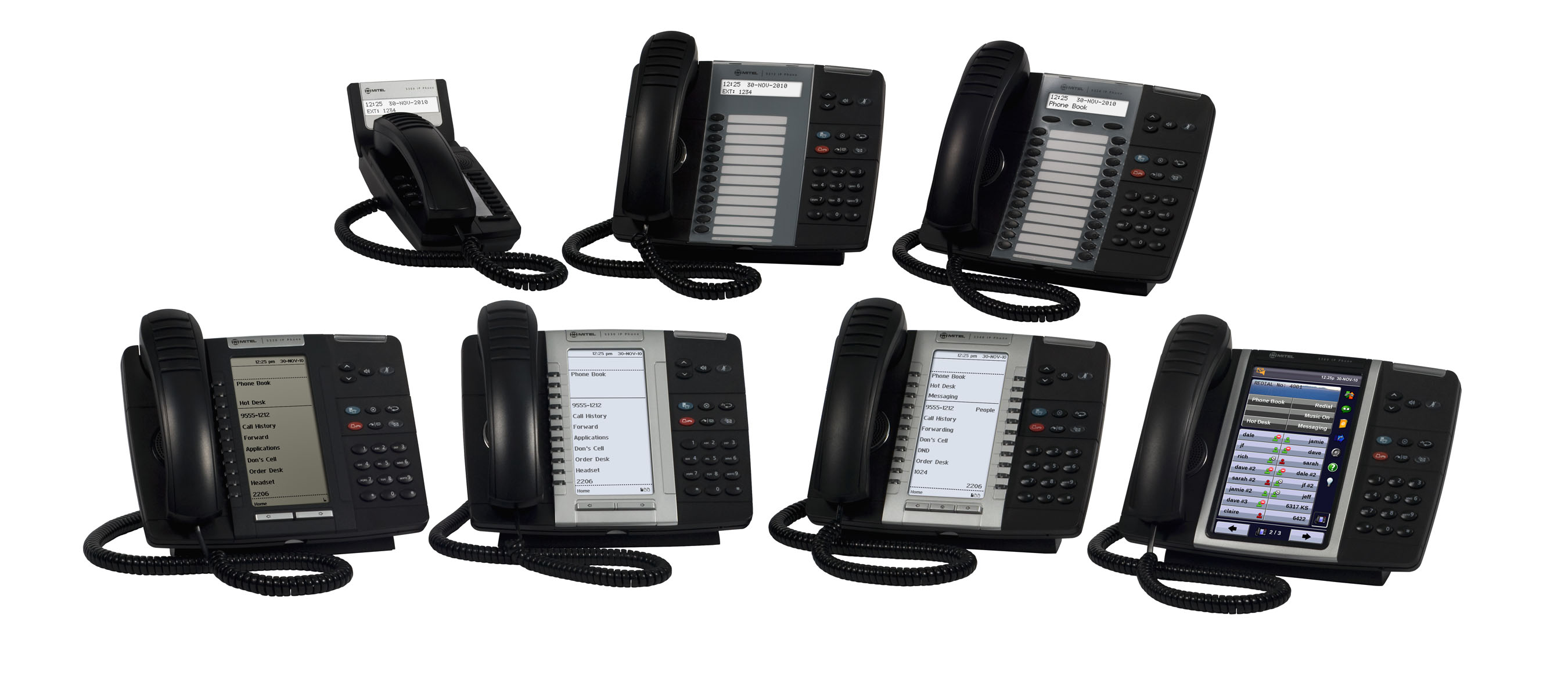 Mitel phone systems for businesses are installed and maintained by Integrated Communication Solutions NY.  Mitel phones cover a range of digital and IP phones, consoles, conference phones, and peripherals suited for business of all sizes and industries.  In addition we have SIP phones, Analog phones, DECT solutions and wireless solutions.
---
MiVoice 5360 IP Phone
The Mitel MiVoice 5360 IP Phone is ideal for any enterprise executive or manager, teleworker, or contact center supervisor. It is an executive class desktop device that provides a large color backlit touch display to graphically deliver rich applications to general business or across multiple vertical market sectors. The 5360 IP Phone delivers easy-to-use, one-touch access to many phone features and applications. The 5360 IP Phone features 48 programmable self-labeling keys, six intuitive call-state sensitive softkeys, superior sound quality, and a built-in HTML Toolkit for desktop applications development. Equipped with a Gadget Sidebar, the seven-inch display enables one-touch access to embedded or internet-based content and applications.  Mitel Phone Systems Installations by ICSNY Integrated Communication Solutions NY Deer Park NY
Integration with Mitel Live Content Suite enables the creation and publishing of dynamic and personalized information to your users, transforming Mitel 5360 IP Phones into rich media information appliances.
Seven-inch, backlit, high-resolution (800 pixels × 480 pixels), color, touch-screen display with brightness controls
Touch-screen access to features and applications
48 programmable, multi-function, self-labeling keys
Embedded Gigabit support
Gadget Sidebar provides one-touch access to embedded applications
Supports Mitel Unified Communicator Express (UCX), Mitel MiCollab Client (formerly Mitel Unified Communicator Advanced) and Mitel Live Content Suite
Extensive support for peripherals and modules: Cordless (DECT) and Bluetooth Accessories, Line Interface Module, and MiVoice 5610 DECT Stand
HTML Desktop Toolkit support for applications development
Handsfree speakerphone operation (full duplex)
Supported on the MiVoice Business (formerly Mitel Communications Director) and MiVoice Office (formerly Mitel 5000 Communications Platform)
---
Mitel 6869 SIP Phone
Largest 4.3″, 480×272 pixel color backlit LCD display
12 programmable soft keys
5 programmable context sensitive keys
Support for up to 24 lines
2 Gigabit Ethernet ports with PoE
Flexible headset support (wireless, DHSG/EHS and USB)
The Mitel 6869 SIP Phone is the most advanced phone of the Mitel 6800 Series, offering remarkable rich telephone features, a large user-friendly interface, and remarkable HD audio quality. Equipped with an extensive number of user customization options and call management applications, the Mitel 6869 guarantees an excellent power user experience.  Mitel Phone Systems Installations by ICSNY Integrated Communication Solutions NY Deer Park NY
With accessory support for a detachable keyboard and up to three expansion modules, the Mitel 6869 is a powerful, expandable and environmentally friendly choice for those that demand exceptional functionality from their phones.
---
Mitel MiVoice 8568 Digital Phone
The MiVoice 8568 Telephone is perfect for users requiring efficient call processing capabilities from the Mitel MiVoice Office Edition. This powerful, ergonomically designed digital telephone features a six-line by 16-character display with eight menu-driven soft keys, which intuitively guide users through system features and capabilities. Sixteen programmable multi-function keys and 10 fixed function keys can be customized for one-touch access to the most commonly used telephony functions and settings. A built-in jack allows headsets to be attached to the phone without interfering with handset operation. The MiVoice 8568 Telephone supports both the Mitel Programmable Key Module (PKM) 12 and the Mitel Programmable Key Module (PKM) 48 for additional programmable keys and DSS/BLF functionality. Support for the Mitel Unified Communicator Express and Mitel MiCollab Client make the Mitel 8568 a powerful communications tool for small and medium businesses.  Mitel Phone Systems Installations by ICSNY Integrated Communication Solutions NY Deer Park NY
Six-line x 16-character alphanumeric display
Eight, menu-driven, context-sensitive softkeys
16 programmable multi-function keys with LED indicators
10 hard function keys: Mute, Speaker, Volume Up / Down, Directory, Feature (Special), Redial, Hold, Transfer, Message
Support for enhanced desktop applications: Unified Communicator Express and MiCollab Client
Hands-free operation (half-duplex)
Dedicated headset jack
Speed Calling (System/Station)
Intercom Calling
Voice mail notification – large message waiting lamp
Message handling (View/Reply)
Store up to 10 Station (personal) Speed Dial numbers
---
MiVoice 7147a Analog Phone
The telephone comes with an extra line interface/data port for easy connection to a PC modem or fax, and support for a message waiting indicator function (controlled by the telephony system), making it the ideal hotel telephone. Moreover the MiVoice 7147a Analog Phone features hands-free and loudspeaker functions, useful in business or private conversations when more people need to participate or for simple voice monitoring. This enables for example, listening via the loudspeaker to telephone services (voice response systems, news, etc.). For efficient usage the telephone is equipped with a mute key for switching the microphone on/off and a redial key for fast last-number access. There is also an integrated headset port allowing a headset to be plugged directly into the telephone, with switching between the headset and the handset controlled by a dedicated key.  Mitel Phone Systems Installations by ICSNY Integrated Communication Solutions NY Deer Park NY
Audio & Video Infrastructure
Explore the endless possibilities of enhancing your conference room with the latest state of the art quality Audio and Video Solutions.  No project is too small or large for our qualified staff of seasoned technicians.
Copyright 2016 - 2018 Integrated Communication Solutions Inc | All Rights Reserved |
Site Design By GlobalFrontierGroup.com UK